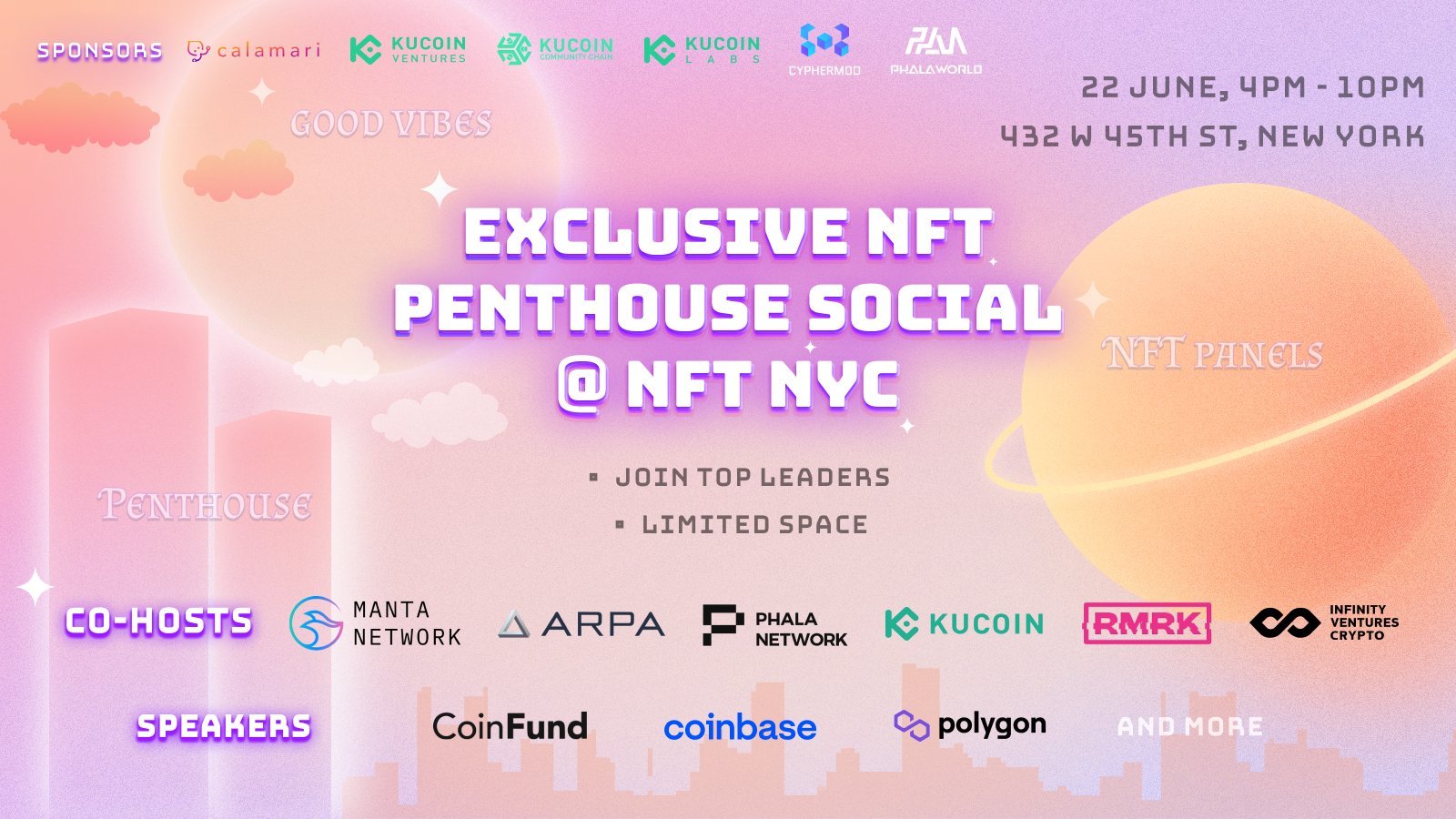 link to the event: https://twitter.com/PhalaNetwork/status/1537985295848644614/photo/1
This is a proposal for a $5k(50,000 PHA) sponsorship package for NFT NYC event being put on by Manta Network and Kucoin.
The event allowed exposure of Phala Network and Phala world to a wider NFT, Metaverse audience and also a wide range of different funds and investors who have been invited to the event.
Events like this are crucial for our ecosystem in order to spread the word and gain exposure in the wider ecosystem. Given the timing of Phalaworld this is the perfect event to drive hype for the project.
Other sponsors include: Manta Network, Kucoin,ARPA, RMRK.
Event details& sponsorship includes:
Prime NY location [Hells Kitchen]
Free top shelf bar and cocktails
DJ
Pizza and sandwiches
Professional Photographer
Panel for Marvin and other co-hosts
Post-event attendee emails/contact info
Other details:
questions are were asked during the panel:
Panel 1: VC Landscape (4:45PM)
Duration: 30 minutes
Panelists: CoinFund, Herbie, Kucoin Labs
Please introduce yourself.
As a VC, you get a first look at some of the most innovative things going on in the web3 space. What are some of the most exciting innovations in the NFT space that you're seeing?
In general, what is one thing you really look forward to seeing in the next iteration of the space?
What is the biggest problem you see in web3 right now and how do you think we will overcome it?
For all of the founders out there that are building right now and looking for funding in these market conditions, what is a piece of advice that you would give them?
Panel 2: NFT Projects (5:30PM)
Duration: 30 minutes
Panelists: Arpa, RMRK, Phala, KCC, BNB Chain
Please introduce yourself.
As you look through the market, maybe at your own projects, maybe at other projects you've talked to, what are some of the most exciting innovations in the NFT space that you've come across?
What are the top concerns going through your mind in this market?
Founder to founder – what sort of advice would you give other builders in this space?
What needs to happen, in your perspective, to get web3 to where you want it to be? And what does that web3 look like?